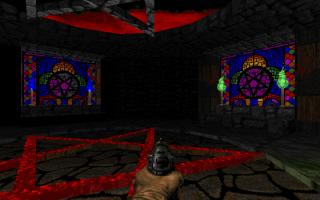 Right from the start of "Blackgate" it struck me that this level has great graphics. Clearly a lot of time has been put into getting the look of the level just right. There is excellent use of decorations like hanging bodies, flickering torches, and a new sky is imported, all giving the level a great hellish feel.
The architecture is good too, with battlemented courtyards, bridged acid, and good indoor areas too. The level sticks well to a theme throughout too, with new textures imported like stained glass windows (not breakable alas :-/), and of course the stylish pentagrams. There are also new sounds imported which are quite good.
The level isn't just good looking though. The level sticks to the non-human Doom 2 enemies, which makes it feel even more hellish :-). The courtyards have imps manning the battlements, which forces you to be very aggressive in running across the bridge to get close quickly. There are a few nice traps at the level, but there are done vary fairly so you've got a good chance of living through them first time.
For me, ammo was spot on right down to the last shell and bullet in places, so make sure you don't waste any ammo. Health is well judged too; if you find those secrets it'll help make life easier though.
This level is the best I've played in quite a while, it really is amazing. just play it, you'll see what I mean. Everyone should have played this one.