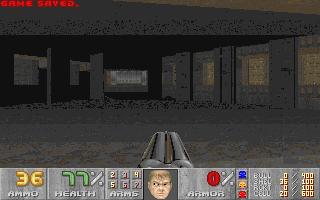 CHORD_NG is a tough level for Doom 2, in a very similar style to The Crusher (Doom 2 MAP06). The action takes place inside a large building, which looks pretty impressive from the outside, rather like a factory in appearance.
The level has a good sinister atmosphere; the lighting is done well to be gloomy but not too dark to fight in, though more obvious light sources would improve it in some areas. Some of the indoor areas are not so detailed, but the design is good and there were no obvious faults.
The real asset of this level is the gameplay. The level centres on the start room, which has 4 slowly moving lifts, one in each corner, that link to all the other areas in the level. There lifts are the focus of most of the fights, because the monsters are usually so powerful that you have to use the lifts to slow them down.
There are some very nasty fights at this level; the starting fight was probably the hardest, I must have died 10 times just starting this level. After that the fights were still hard, and I died quite a few more times in completing the level; there are a lot of fights that you'd be lucky to survive first time. The fights are very tactical though, so once you find the right tactic things are usually a lot nicer.
This is a challenging level to play, and you have to be prepared to think as well as act. Good luck!