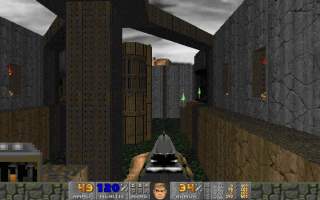 Memento Mori is undoubtedly among the greatest Doom add-ons ever made.
Compared to the speed of most Doom projects these days, it's hard to believe that Memento Mori was able to gather 21 level designers and texture artists, produce 32 good levels, along with a consistent theme with a liberal dose of custom graphics, all not much over 5 months. If only everyone else had avoided starting Yet Another Wacky TC and just made good levels, then the Memento Mori series and their successor Requiem wouldn't have had such an easy ride at the top of Doom add-ons. Their like will never be made again, I fear.
The gameplay of most of the levels can't be faulted. The interesting layouts of the levels, and excellent placement of monsters and traps, means that there's never a dull moment. There are also plenty of good quality secrets throughout. Unusually, Memento Mori was also designed specifically with cooperative play in mind, and it plays excellently in this mode.
A number of new graphics are included which are used to give a common theme to the levels. The trademark of the whole episode is definitely the wooden doors with a variety of metal logos displayed on them, but there are plenty of other good new textures used throughout.
Compared to modern levels, there is certainly a lack of detail at some of the levels here. Good textures and structures mean most of the areas look fine, but parts inevitably end up looking bare. This is definitely the weak spot of some of the levels here.
While I'm on the subject of age (sort of), I should mention that people using Boom will need to use compatibility mode, and users of MBF based ports need to enable comp_model and comp_floors, because there's a couple of dodgy uses of Doom line types that go wrong otherwise.
Well, I'd better get started on the individual levels then:
There is good new music at most (all? I lost track) of the levels. Together with the excellent new skies this helps make the levels even more sinister.
Memento Mori is one of the must-play Doom add-ons. So if you haven't played it yet, no more excuses! If you have, then find a friend and play it coop, because that's even better.