The Seventh 05: Underground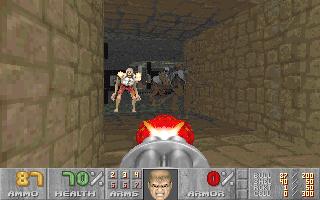 This is the 5th level in the series "The Seventh", called "Underground" (I like the name ;-). It's an underground hellhole basically, and you have to escape to the surface. Unlike earlier levels in the series this one needs Boom to work properly.
The level consists of dark tunnels joining semi-lit marble halls; there is a lot of attention to lighting throughout. The level is a bit dark in places, but not so dark that you miss the architecture; there is a lot of detail the marble halls. There are some good Boom features too, like deep water and a conveyor.
As with earlier levels in this series, the fights are dominated by the revenants and archvilles. The layout of the level gives a lot of good revenant fights, especially since the darkness makes them hard to see until they fire. There are some really good fights; you have to think about what your routes of retreat are, and look out for chances to get them fighting each other.
Provided you like lots of revenants, you'll definitely like this level. It's a step up IMO from the earlier levels in the series, hopefully a good sign for things to come.
File List
prwrsv05.zip, size 74kb, date 1998/8/24.

PRWRSV05.WAD, size 199kb, date 1998/8/20.

Map
Coop
Dmatch
Flags
Based on
MAP05
4
0
SkLevs

PRWRSV05.TXT, size 5kb, date 1998/8/20.