VENOM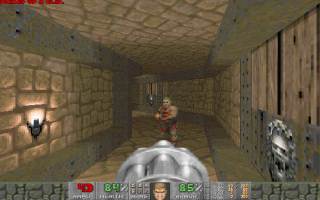 "VENOM" is a single marble-and-brick style level for Doom 2. The architecture is good, with lots of beams, pillar, lighting effects, and The lowish light level and marble decor makes it pretty gloomy and sinister throughout.
There is plenty of action too. Monsters tend to be used in blocks, each all having one type of monster. Normally I don't like this style, but it was used quite well here; there are some excellent fights of this type. There is a spread of traps and fights overall too. Ammo and health are well judged throughout too.
The whole level fans out from a single central room, which links the 4 main areas. The level progression is interesting; instead of using keycards, the level uses lots of switches to control the level progresion. It makes things a bit more interesting and unpredictable.
Overall this is a nice level, quite fun to play, and well designed.
File List
venom.zip, size 111kb, date 1998/3/28.

Venom.txt, size 4kb, date 1998/3/28.
venom.wad, size 400kb, date 1998/3/28.

Map
Coop
Dmatch
Flags
Based on
MAP01
4
0
SkLevs, ZeroReject